Archive for October, 2011
Larking Around this Christmas
Yes, yes, I know it's only just under two months until Christmas, but you know I like to plan ahead!
If you're like me, you'll be very excited to know that Australia's Lark online store has just revealed its 'Christmas Store' – with lots of gorgeous little Christmassy bits and bobs to brighten your home or to give as gifts.
I'm not full-on into all things 'vintage', but I love the nostalgia I feel whenever I pop into the Lark online store. There's also a REAL Lark store in the sweet town of Daylesford, and my girls just loved browsing in there last time we visited. (Their excitement generated lots of knowing smiles from other mums in the store.)
I bet your mum or gran would love it, too!
So, grab yourself a cuppa and head over to the site to immerse yourself in loveliness…
Note: Allison and the team at Lark deliver within Australia, but they also ship overseas. So if you're outside Australia, you can still snap up a gorgeous thing or two.
Gratitude Friday – 28 October 2011
Well, would you look at that? Another week on Planet Earth has strolled on by!
It's been a great week – here are five of my favourite 'things':
Going for a leisurely walk through Ballarat's Botanical Gardens (see pic above) with my girls, and noticing a couple picnicking under a tree. What a delightful idea. We've made a pact to picnic in the gardens at least once this summer!
Receiving a very large sum of money.
Being able to be here to look after Arabella on Thursday and Friday, nursing her through a cold.
My huggable hubby, Darren.
After a very, very busy period of work, making time to tidy up a few 'loose ends' (always feels good!).
What are you grateful for this week? Maybe it's the people in your life? Maybe somebody did you a good turn or a stranger was super-considerate? Maybe you noticed some flower buds unfurling? Maybe you noticed how good you're feeling at the moment? If you'd like to share your gratefuls from this week, simply leave a comment!
When it comes to the law of attraction, we tend to advise NOT focusing on that which you do not want.
That's because, if you have a strong, fearful reaction to that which you do not want, the very strength of that emotion will start to draw 'the unwanted' to you.
And that's how it can be with serious illnesses. If you worry and fret and feel absolute terror about one day potentially contracting a serious illness, then not only are you compromising your current happiness, but you may well be magnetising the very illness you're hoping to avoid.
But what if your family has a history of serious illness? What if cancer has plagued your family over the years? That's what has happened to Kevin Gianni (pictured above), of Renegade Health. Kevin's dad died of cancer when Kevin was only two years of age, and his mum contracted cancer years later but was able to overcome it. And with cancer (along with diabetes) being at epidemic levels around the world today, it's likely we all know someone who has been, or is currently, affected by this illness.
So, what to do? Ignore it and hope it will go away?
Well, that's an option, but there are many environmental and emotional factors at the heart of illnesses, and part of our life's journey may well be to work through those issues, so that we can free ourselves of the 'symptom' (the illness) and live the happy, healthy life we all want to live. Ignoring the issue is therefore not the answer. I believe illness comes into the life of a person for a reason, and if or when it does, we need to pay attention!
Kevin is a health advocate, and has passionately searched for natural ways of healing people from cancer. He's gathered doctors, natural health experts and cancer conquerors (I prefer this term to survivors!) and has brought them together in an online event called the Healing Cancer Summit. Kevin interviews these amazing people over the course of 5 nights, providing information on effective alternatives to traditional treatments for cancer.
Kevin is generously making these interviews available to listen to for free for 24 hours after each call, but you can also upgrade and purchase the audios and other bonuses outright.
And for a (very) limited time, when you purchase you gain permission to share the recordings with three other people for free. Perhaps a beautiful gift for family members or friends who have been affected by, or are currently suffering with, cancer?
For more information about this life-changing, life-enhancing summit, head here:
http://www.healingcancersummit.com/
So in terms of the law of attraction, know that listening to positive, empowering advice will not draw cancer to you. Instead, it will help you focus on whole health (of body, mind and spirit), and get you excited about living in a state of vibrant health and joy.
Please spread the word, won't you?
Send friends and family here:
http://www.healingcancersummit.com/
See you soon! Mwuh!
PS The interviews started about an hour ago, so hurry!
Sunday was an amazing spring day here in Ballarat – mid-20s, and glorious sunshine.
I went with my girls to the Botanical Gardens (they took me on a tour, pretending that I hadn't ever been there before), and we came across the most beautiful lilac tree in full bloom.
I just had to share some of its beauty with you (see the pic above). I buried my nose into its masses of flowers, inhaling the sumptuous, heady aroma. Can you just imagine?
Mmmm. Are you stopping to smell the roses/lilacs/other fragrant flowers today? If not, just let yourself dream about it, and be carried away…
Gratitude Friday – 21 October 2011
A great week for me! How was yours?
Here are five things for which I am so grateful:
Getting to chat with a special, dear friend of mine via Skype, from her current home in Copenhagen! Don't you just LOVE this technology?
Having a chat with my beloved aunt – perhaps this was the week for lovely chats?
Learning a few handy tips about stylish dressing from Briony Croft, of Alla Moda Styling, on the teleseminar I hosted this week called Looking Good, Feeling Good: Dressing to Boost Your Vibration & Attract Success. The call was recorded, and it will be available for a few weeks, until next month's call is advertised. So if you're interested in grabbing a copy of the recording, sign up here!
Having access to plenty of fresh, healthy food.
Gorgeous hugs from my gorgeous children. I feel as though I'm the luckiest mum in the world!
I'd love to hear your 'grateful' news from this week. Click below, and share away!
Although, if you currently DON'T wear it well, you might want to join me this Thursday, when I interview Briony Croft (that's Briony, in the pic above), personal stylist and owner of Alla Moda Styling.
Briony will be spilling the beans on how to 'dress well' – because when you feel good in your clothes, you beam out a powerful, supremely confident vibration.
Our interview is called 'Looking Good, Feeling Good: Dressing to Boost Your Vibration & Attract Success' (sounds amazing, doesn't it?!).
Creating a Colourful Life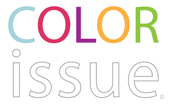 Now, you guys know I'm always banging on about creating a beautiful life, right?
Well, for me, that has to include colour. I mean, take a look at my website, for starters! If that hot pink border doesn't blow you out of your chair and dazzle your day, I don't know what will. Colour affects your mood (and therefore your vibration) in a big way – have you noticed that?
I think it's so important to create a world that inspires you, that honours who you are and who you want to grow into. And you can use colour to help you do just that.
So, if you're after more inspiration, you've got to check out a brand-spanking new blog by talented US graphic designer Aarean Jergensen.
Called Color Issue, Aarean's blog celebrates colour in a big, big way. (BTW, you pronounce Aarean's gorgeous name as air-ee-un.)
So go on! Let yourself be brave and bold, and soak up the utter joy of the colour that's in your world – and in the beautiful world you're creating for yourself.
Gratitude Friday – 14 October 2011
Whoooosh! There goes another week. We're slowly unfolding into more spring-like weather here in Ballarat, and I'm adoring all the gushes of blossoms in the city's gardens.
So, what did I notice and appreciate from this week? Read on!
A man in the hosptial waiting room assuring my daughter Arabella that it didn't hurt when he had a pin removed from his thumb (she was about to go and have three removed from her elbow!).
Being there for Bella during the still-traumatic process of having the pins (and stitches, which we hadn't known about!) removed from her broken elbow. She can also move her arm more easily now that the cast has been removed (yay! She can wear normal shirts!), even though the bone is still healing…
Receiving money from all over the place!
Being asked to appear on a radio interview next month.
My ever-supportive husband doing so much of the meal prep and housework this busy week (thanks, darling).
So, I'd love to know what you're grateful for from this week. Just click on the comments link below and let me know!
This is a view of the blender (the trusty, hardworking Vita-Mix) that whips up my green smoothies at any time of day.
Just look at the gorgeous colour of those greens! These particular greens are fresh from my garden, and are full of zingy, vibrant life force. They're especially good for us to eat in their raw state, because when we take in living foods, we take on their life force. This means that you experience more energy, my friend. And who doesn't want that?
Oh, and having a higher vibration means you naturally attract other 'things' of high vibration – you know, the good stuff! I do love that law of attraction…
If you've heard about green smoothies but think they sound kind of gross, then I'm happy to assure you that they taste good. They contain fruit, and there's no milk, so it's kind of like a fruit cocktail, but with an earthy edge. Go on, give them a try!
If you don't already have a copy of my free Rich Radiant Real Green Smoothie Glow recipe e-booklet, you can grab it from the Freebies page. Try a recipe or two on for size. Take the plunge, and experience a surge of energy.
Here's to your health! (Excuse me while I go whip up another batch of green lovin'…)
Gratitude Friday – 7 October 2011
Hello! How has your week been? Mine's been fab – and here are five things for which I am truly grateful:
Having fun playdates with my girls' friends.
Travelling safely with my girls to Melbourne, to visit family and friends. It was really special to be able to spend a couple of evenings chatting with my gran.
My gran's garden looking beautiful in full bloom – including the gorgeous 'snowball tree' (pictured above). I'm going to grab some cuttings from those trees next time I visit, so that I can always have a reminder of my grandparents.
Hearing my grandfather's voice in a 'recorded story book' that he created for my little cousin. It's almost like he's still here, when I hear his words.
Having special time with my children before they return to school next week! I LOVE the relaxed pace of school holidays…
I'd love to hear what you've really loved and appreciated about the past week. Feel free to share your comments!
Big hugs to you…