Creating a Colourful Life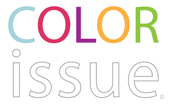 Now, you guys know I'm always banging on about creating a beautiful life, right?
Well, for me, that has to include colour. I mean, take a look at my website, for starters! If that hot pink border doesn't blow you out of your chair and dazzle your day, I don't know what will. Colour affects your mood (and therefore your vibration) in a big way – have you noticed that?
I think it's so important to create a world that inspires you, that honours who you are and who you want to grow into. And you can use colour to help you do just that.
So, if you're after more inspiration, you've got to check out a brand-spanking new blog by talented US graphic designer Aarean Jergensen.
Called Color Issue, Aarean's blog celebrates colour in a big, big way. (BTW, you pronounce Aarean's gorgeous name as air-ee-un.)
So go on! Let yourself be brave and bold, and soak up the utter joy of the colour that's in your world – and in the beautiful world you're creating for yourself.