Archive for Beautiful home
When you attend amazing events like this (which is where I spent the weekend), it's a given that you'll meet beautiful, open-hearted, spiritually aware, talented women.
One such woman is Karen Field – Karen is an artist who hand-paints glass bottles. I couldn't help but pick up a couple of her creations, knowing that using beautiful utensils (especially for the containment of that which nourishes or hydrates us) helps lift our vibration.
I especially loved the above pink and green bottle, because it features the main colours of Rich Radiant Real! Karen even grabbed her pens and added my business name to the back of the bottle:
The other bottle that I purchased, which is equally striking, features empowering words:
Aren't they just gorgeous? Imagine using such life-affirming bottles every day, infusing your water with love…
If you'd like to see other bottles that Karen has decorated with her beautiful painting and handwriting (each design is unique), head here to check out her Facebook page. One of these beauties can be winging its way to you in no time.
Just another way to lift our vibe, live with love, and help attract more of 'the good stuff' of life!
Well, it's my 41st birthday today.
This morning I've been showered with gifts and love by two excited little girls and one smiling husband, and with wishes, gifts and cards by family and friends. And the fun is only just beginning.
I've decided to give YOU a birthday gift from me, the gift of 41% off any of my three downloadable products.
http://www.richradiantreal.com/birthday
I've never had a birthday sale before, so this is exciting! I love the thought of being able to make (even if for one day only) my inspirational, transformational products available to anyone!
You can choose from the:
So, if you'd like to receive 41% off any (or all) of my instantly downloadable products, you can simply head here:
http://www.richradiantreal.com/birthday
Sale doors close at 10am Wednesday 22 August Australian time (that's 8pm Monday US EST, and 1am UK Wednesday), so jump on in!
http://www.richradiantreal.com/birthday
This might just be the nudge you've been asking for…
OK, OK, so it's not actually summer here… but I know it is for some of you!
I'm craving the feeling of the summer sun on my skin, and today I did this vicariously by (finally) taking half an hour to flick through the fabulous June edition of the online Matchbook magazine.
Sunshine fairly burst from its pages, and I soaked it all up! Aaah…
Here are a few of the things I loved from this edition:
an article called '10 Things You Didn't Know About John Lennon' (I can't believe he was only 40 when he died – that's my age! Oh, that fact isn't one of the '10 Things', BTW!);
an article about the legendary Rita Hayworth (and how you can create a little 'Rita' style in your life);
an article called 'How to… Pack a Summer Picnic', which includes the accoutrements you'll need for a Classic Picnic, Rustic Picnic, Romantic Picnic or Modern Picnic (plus recipes and a list of famous picnics on film – cute!); and
an interview with New York–based designer Cynthia Rowley – she certainly lives a vivid life!
If you're needing a boost, my advice is to take some time today to revel in beauty. Reading a magazine like Matchbox might be just one way to do it!
Simple Pleasures Are Often the Best!
I was recently looking for a particular book, when I instead stumbled across a book I'd purchased as a wee gift for myself just after Christmas, from the delightful Mary Ryan bookstore in Toowoomba.
This book, called A Book of Simple Pleasures
 (by author Leigh Crandall), is balm for a frazzled soul. Or even a not-so-frazzled soul.
The words are beautiful, but it's the photography that makes me swoon.
Rich, luminous photos of glass bowls of flowers, close-ups of cosy soft furnishings, and panoramas of beautiful settings in nature. Many of the photos focus on the details of domestic pleasures, and invite us to relaaax and sink into sensory pleasure.
Have a look around your home. Is it set up, in a way that's personal and true to you, to make you feel good?
Is there beauty in your midst?
Do you actively make time to connect with yourself and with others, to create rich experiences?
If you haven't already read this book, I'd highly recommend it. It's full of pithy quotes, ideas for easy entertaining or for lifting your mood, and personal anecdotes from contributors.
The ethos of this beautiful book is summed up by one of its contributor's quotes (Amelia Barr):
It is always the simple that produces the marvellous.
So pare back, and focus on what matters to you and what brings you joy!
Are You Ready to Live Rich?
Is that you in the pic above?
Do you feel as though you're drowning in your clutter, with little hope of finding a way out?
Perhaps you also feel that your finances are down there with you, stagnant under all the clutter?
Well, I'm here to help.
I've just released the home-study version of The Living Rich Declutter program, a transformational five-week online program that takes you from overwhelm to clarity.
You are going to LOVE this program. Check it out at:
If you truly are ready to get your clutter problem sorted once and for all, you need this program. And it's really like two programs in one, because it shows you how to handle your physical clutter as well as your money clutter.
Come and see what happened to me when I cleared a heap of clutter before a house move:
(Oh, and there's a very special, limited-time-only offer – head here to make sure you don't miss out: www.livingrichdeclutter.com.)
Mwuh!
It's (Nearly) Time to Clean Up!
How's your week panning out? Are you on top of things, or are things getting on top of you?
Sometimes clutter has a way of getting on top of us, of weighing us down with its dead energy. It feels so *blah* to look at clutter in our physical environment, doesn't it?
But when we declutter, we release that negative energy and let in fresh, clear, prosperous energy – and you KNOW how good it feels when you accomplish a really good declutter!
So, if you need to declutter your physical environment, get excited.
Very soon, I'll be releasing a home-study version of a course called The Living Rich Declutter program. In that program, I take the 'overwhelm' out of decluttering, and show you how to declutter for prosperity.
If you'd like to be one of the first to know about this sensational course, simply leave your details here:
I'll let you have access to this course before its official release!
Have a fabulous rest of week, won't you? (Keep smiling, and be kind to everyone, including yourself!)
10 Ways to Create a Sparkly Christmas
If you've found yourself feeling a bit 'over' Christmas in recent years, going through the motions with no real joy, then it's time to 'sparkle' things up a bit!
How do I define 'sparkly'? Well, for me, it means seeing Christmas as the embodiment of all that it is good in the world. Connecting with people you love, and really celebrating life and beauty. A time when all that glitters really is gold!
Here are a few ideas for adding celebration and sparkle to your Christmas. I've either 'done' these myself, or plan to. Please don't feel overwhelmed by this list – if you spot a couple of ideas that really resonate with you, why not just give those ones a try this Christmas?
1. Create a beautiful, welcoming wreath for your front door or the inside of your home.
2. Create personalised Christmas cards. We've done this every year since our girls were one year old, because I thought it would be easier to have one card that included a photo update of our children, rather than printing and sending photos with conventional cards.
Until last year, I had our DL-sized cards designed and printed at Snap, but last year I created my own and will have fun doing that again this year! I love taking the photos of our girls for these cards – they have a lot of fun!
Here's a scan of our family Christmas card from a few years ago:
If you live in the US, Pinhole Press has a fantastic range of beautifully designed templates that can be personalised with your photos.
3. Help out at a food shelter – bring your family on board. If you can't help out in person, perhaps donate some food, or consider donating to Oxfam via its Unwrapped Christmas-gift project.
4. Remember the power of intention, and create an affirmation that helps you attract the type of Christmas you'd love to have (for help with creating affirmations, check out the Affirmations: Your How-to Guide PDF bonus when you invest in Dream Life Affirmations audios.
5. Make a set of special, long-lasting decorations that can become family heirlooms (perhaps some Santa tree ornaments or napkin holders?!).
6. Take healthy sweet treats around to your neighbours on Christmas Eve, beautifully packaged – you could make the White Christmas recipe in this month's ezine, or check out the recipe for decadent Orange-Choc Bliss Balls in Monkey Mike's Raw Food Kitchen: An Un-Cookbook for Kids.
7. Watch a suitably Christmassy movie such as the original Miracle on 34th Street, or the Christmas scene from Mr Bean's Christmas! (And then there's always Love, Actually.)
8. Add a bitta 'bling' to your life with sparkly decorations in your home and office. There's something so special about glitteriness. Just remember that 'sparkly' can be tastefully done (tinsel doesn't have to feature, if that ain't your thing). Candlelight makes everything shimmer – and what about adding sparkle to your clothing? Check this out for inspiration!
9. Pretend you're a child again, and put out a stocking at the end of your bed.
10. Create your own Christmas crackers. We did this for the first time last year, and it was so much fun.
We (my children and I) bought the inner tubes and cracker snaps from Riot, and we filled the crackers with a cracker snap, a wrapped Lindor chocolate ball, a handwritten Christmas joke, and a handmade paper crown. We then wrapped them in tissue paper, tied ribbons on the end, and put a small photo of the recipient on the front of the cracker!
Note: don't make the tissue paper wrapping too thick. We did, and it was a little difficult to rip the crackers open…
Oh, a bonus tip –  if you're a 'planner', like me, you'll love Alison May's Brocante Home Christmas Planner, which features heaps of inspiration and dozens of checklists.
I hope this list has inspired you – and if you were feeling a bit jaded about the whole thing, I do hope that it's reignited your Christmas spirit!
PS I'd love to hear what you love about Christmas – what traditions do you love to repeat every year? What new tradition/s would you like to start? Leave a comment and let me know!
The English rose greets the summer garden with a profusion of colour and perfume and our doors and windows are thrown open to allow the season's intoxicating atmosphere to envelop us and our homes.

Sydney A Sykes
I love this quote! It may not quite be summer here, but our roses are in full bloom. We gave our twin daughters '1st-birthday roses' a few years ago, and we've enjoyed their beautiful blooms ever since. Above is a photo of our daughter Evangeline's rose, which is the David Austin 'Evelyn' rose. So gorgeous (you should smell it!).
Arabella has the David Austin 'Mary Rose' as her special plant – I'll post a pic of that soon…
I hope you enjoy this splash of rosy-ness, and that you can almost imagine 'the season's intoxicating atmosphere' in your home! I've certainly been enjoying these beautiful flowers. Ah, ain't life grand?
Larking Around this Christmas
Yes, yes, I know it's only just under two months until Christmas, but you know I like to plan ahead!
If you're like me, you'll be very excited to know that Australia's Lark online store has just revealed its 'Christmas Store' – with lots of gorgeous little Christmassy bits and bobs to brighten your home or to give as gifts.
I'm not full-on into all things 'vintage', but I love the nostalgia I feel whenever I pop into the Lark online store. There's also a REAL Lark store in the sweet town of Daylesford, and my girls just loved browsing in there last time we visited. (Their excitement generated lots of knowing smiles from other mums in the store.)
I bet your mum or gran would love it, too!
So, grab yourself a cuppa and head over to the site to immerse yourself in loveliness…
Note: Allison and the team at Lark deliver within Australia, but they also ship overseas. So if you're outside Australia, you can still snap up a gorgeous thing or two.
Creating a Colourful Life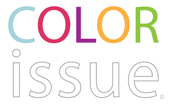 Now, you guys know I'm always banging on about creating a beautiful life, right?
Well, for me, that has to include colour. I mean, take a look at my website, for starters! If that hot pink border doesn't blow you out of your chair and dazzle your day, I don't know what will. Colour affects your mood (and therefore your vibration) in a big way – have you noticed that?
I think it's so important to create a world that inspires you, that honours who you are and who you want to grow into. And you can use colour to help you do just that.
So, if you're after more inspiration, you've got to check out a brand-spanking new blog by talented US graphic designer Aarean Jergensen.
Called Color Issue, Aarean's blog celebrates colour in a big, big way. (BTW, you pronounce Aarean's gorgeous name as air-ee-un.)
So go on! Let yourself be brave and bold, and soak up the utter joy of the colour that's in your world – and in the beautiful world you're creating for yourself.