Archive for Colour
When you attend amazing events like this (which is where I spent the weekend), it's a given that you'll meet beautiful, open-hearted, spiritually aware, talented women.
One such woman is Karen Field – Karen is an artist who hand-paints glass bottles. I couldn't help but pick up a couple of her creations, knowing that using beautiful utensils (especially for the containment of that which nourishes or hydrates us) helps lift our vibration.
I especially loved the above pink and green bottle, because it features the main colours of Rich Radiant Real! Karen even grabbed her pens and added my business name to the back of the bottle:
The other bottle that I purchased, which is equally striking, features empowering words:
Aren't they just gorgeous? Imagine using such life-affirming bottles every day, infusing your water with love…
If you'd like to see other bottles that Karen has decorated with her beautiful painting and handwriting (each design is unique), head here to check out her Facebook page. One of these beauties can be winging its way to you in no time.
Just another way to lift our vibe, live with love, and help attract more of 'the good stuff' of life!
Creating a Colourful Life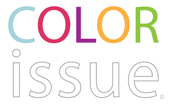 Now, you guys know I'm always banging on about creating a beautiful life, right?
Well, for me, that has to include colour. I mean, take a look at my website, for starters! If that hot pink border doesn't blow you out of your chair and dazzle your day, I don't know what will. Colour affects your mood (and therefore your vibration) in a big way – have you noticed that?
I think it's so important to create a world that inspires you, that honours who you are and who you want to grow into. And you can use colour to help you do just that.
So, if you're after more inspiration, you've got to check out a brand-spanking new blog by talented US graphic designer Aarean Jergensen.
Called Color Issue, Aarean's blog celebrates colour in a big, big way. (BTW, you pronounce Aarean's gorgeous name as air-ee-un.)
So go on! Let yourself be brave and bold, and soak up the utter joy of the colour that's in your world – and in the beautiful world you're creating for yourself.