Archive for Uncategorized
International Raw Food Day
Eating food that's ALIVE is so good for you – did you know that?
Fresh, raw food has a high vibration, and when you consume it, it helps you raise your vibration, too.
I mean, really: look at the pic above. Doesn't it make you feel good just looking at those colourful, vibrant foods? And wouldn't it be great to glow like the girl in the pic, too? Raw foods can help you do that!
If you're new to the whole concept of raw food and health, you might be interested to know that today is International Raw Food Day, with the benefits of raw food (including its taste) are being celebrated and promoted around the world.
This Raw Food Day is the brainchild of the original raw food coach, Karen Knowler – I've been a student and champion of Karen's for years, and I love her mission to help change the planet through raw food.
Karen wrote a fab book for beginners recently, called Raw Food Made Simple. If you're keen to dabble, and would love a full-colour, friendly introduction to raw foods, head here to purchase a copy of this nifty, easily digestible little book.
Or, you could always start with a free copy of my The Green Smoothie Glow ebooklet, which features eight green smoothie recipes and a little explanatory info. Green smoothies are made from fresh fruit and dark leafy greens, all blended into an exquisite elixir that tastes good and does you good!
Also, feel free to register for my complimentary monthly ezine (if you haven't already – simply enter your name and email address in the box on the top right of this page), which always features a raw food recipe – and if you click on the 'recipe' blog category to the left, you'll discover a heap of my recipes.
And here's one more fab resource for you: the website Tera Warner.com, which has loads of free resources (including a great blog), plus books for sale, and life- and health-enhancing live programs. In face, Tera is soon to run a 10-day Juice Cleanse with a group, so if the sound of that has piqued your interest, simply click on the link below.

So there you have it. A wealth of fresh resources to start you on your journey towards better health. Thank you to Karen for creating International Raw Food Day – and here's to your health, and to gooood vibrations.
PS Oooh! A HUGE PS! If you're at all interested in creating magical raw food dishes, you must check out the work of my beautiful friend, Shakaya Leone of Earth Empress.
You'll love her Nude Food, an exquisite e-collection of recipes, featuring mouth-huggers such as 'Shakaya's Sublime Key Lime Mousse'. Honestly, check it out!
Of course you can!
Very recently, I discovered that the Hay House team will be coming 'down under' again to spread love and light.
They'll be coming to Australia for the 'I Can Do It' conference, two days jam-packed with inspiration, education, enlightenment and fun.
I didn't go to last year's event because I had a prior commitment, so I would love to go this year, but I have already booked that weekend for time with friends – I'm waiting to hear back on whether our friends can reschedule, and if they can, I'll be there!
After being inspired by Louise Hay over the years, including loving her book You Can Heal Your Life, I'd love to meet her in person:
Co-presenting will be life coach extraordinaire Cheryl Richardson – I love her book The Art of Extreme Self-Care (see my review of it here), and I'd love to see her energy sparkle 'live'!
An another of my favourite people will be presenting: financial expert Suze Orman. I own several of Suse's books – she's a straight-talking dynamo!
There are actually seven presenters over a weekend, and the conference will be held in Sydney and Melbourne. If you live in Australia and would love a shot of inspiration, learning from women and men who are here to lead, educate and transform, then make your way to one of these conferences.
I'm sure it will be no problem for my friends to reschedule, but if they can't, then I will make a note in my diary for NEXT year! Let me know if you're going, OK?
Did you know that Earth Hour has come around again?
It's this Saturday night, from 8.30pm, wherever you are in the world.
I have my candles at the ready, and will convince my husband to join me in a board game called Planet Earth.
What about you? What are your plans for this Earth Hour? Perhaps you'll just scoot off to bed early?
I LOVE the whole concept of Earth Hour (and I'm so proud of the fact that it began only a few years ago, in Australia).
What better reminder to ourselves that we are here to care for the earth?
Gratitude Friday – 2 March 2012
Happy Friday! How are you? Is it, perhaps, a case of TGIF for you? I think Friday is often a day when we can be grateful that the week is over, if it's been crazy-busy, or traumatic.
My week has been great, though. Here are a few 'gratefuls' from me for this week:
Loads of rain falling from the skies, greening up our beautiful city.
Going for a morning walk around the lake with a friend (above is a photo from our walk – yep, it was very cloudy and drizzly, but I love how my camera's flash caught the droplets of water and made them shine. And doesn't that moss-covered tree look magical?). It's so nice to go for walks with friends – you cover so much distance without realising it, because you're chatting so much!
Darren (mwuh!) taking the girls to school a few days this week so I could get on with my work early in the day.
Having our kitchen knives sharpened (no more squashed tomatoes).
Hugs, hugs and more hugs from my special girls, who seem to be getting taller with each hug.
Leave a comment below and let me know what YOU loved about your week. See you soon!
The Search for Sanity in a Crazy World
This month's article has been written by success strategist Dr Philip Humbert. I've been following Philip's emailed TIPS newsletter for, like, FOREVER, and I love receiving his weekly dose of wisdom and wit. When I read this article in his newsletter a couple of weeks ago, I just knew that I wanted to share it with you (thanks for allowing me to do so, Philip!). To subscribe to the TIPS newsletter, head here.
"This week, I've worried about violence in Syria, inflation, deflation, unemployment, President Obama's actions, my credit score, and an earthquake in some country I don't recall. And that's only a few of the worries that come to mind at the moment!
Perhaps I've been watching too much "news."
But if I turn off the news, then I have to monitor my Smart Phone, run a half-dozen apps per day, listen to my iPod, take care of 150 emails and deal with an average of 17 phone calls. Not to mention pay bills, fix dinner, and run a few errands. It's all too much!
Or, I could sit on my deck with a good book and a good cigar, listen to the birds and watch the clouds float past.
And to me, that sounds more like the "good life" than anxiously monitoring the stock market all day long.
How did life get this way? Wasn't technology supposed to help us? Wasn't a small world with instant communication going to make us more efficient, more productive and less stressed?
Or, maybe I'm confused about that.
When I look around, I see folks with wires hanging from their ears. I see folks staring at tiny computer screens in their hands. I see folks scurrying about, but I don't see much eye contact. I don't see too many smiles. I don't even see many handshakes or hear much laughter!
My point is that maybe we are slowly going crazy.
Are we living as well as we could? Are we making the most of our lives? Are we doing smart things in intelligent ways? Do we maximize our joy, and our quality of life?
My fear is that many of us are doing what we "should do" and aren't very happy about it. I suspect we're "majoring in minor things." We're "caught in the thick of thin things."
Some of us remind me of Sisyphus, the character from Greek mythology who was condemned to push a rock up-hill, only to have it roll back down, over and over, forever. We're always running, but never catching up.
The dilemma, of course, is that we dare not fall behind. We want to be in contact, to be involved, to be "connected." We want to text our friends, monitor their Facebook pages, and make money. We want the benefits and rarely stop to count the cost.
We are the richest, most sophisticated and most productive people in history. This is good!
But I also remember that my Grandparents had time for dinner. They had a garden, they actually went to church to worship, talk with friends, and enjoy their community. They had the gift of time! (What a concept!)
I'm pleading for that elusive thing called "Balance." Money is good! I want all I can get, but not at the cost of peace of mind, a loving family, and time to rest. I want new toys, new technology and a nice car, but not at the cost of frustration and high blood pressure. I want the benefits of modern life, but sometimes the cost is too high.
In the end, it's about CHOICE. We are blessed in that we can have virtually any type of life we choose. We can live anywhere we choose. We can work as hard as we want. We can become famous or rich or powerful. We can have friends all over the world. And, we can play chess, read to our kids, or enjoy a long walk on a sunny winter day. But we cannot do all of it, at least not all at once.
We must choose. The Good Life and Success are about defining the life you want and consistently behaving in ways that are most likely to achieve it. I fear too many of us are neglecting the hard work of thinking about our priorities, then making the choices and enforcing the boundaries to achieve them.
In the end, we have a few years of 24-hour days and what we do with them is the most profound choice we will ever face.
To me, one of the great tragedies of modern life is to find, at the end of life, that we failed to live the life we intended. Don't do that!
Think carefully about your values. Choose priorities that are consistent with your values. And live accordingly."
Copyright (c) Dr Philip Humbert, 2012, all rights reserved.
U.S. Library of Congress ISSN:  1529-059X
Dr Philip Humbert is a success strategist, author and popular speaker, and he writes an awesome weekly newsletter called TIPS. I'd highly encourage you to check out Philip's work, and his newsletter, at http://www.philiphumbert.com/ (or you can email him at Coach@philiphumbert.com). Many thanks again to Philip for sharing this article!
This Valentine's wish may be a little late for my Aussie readers, but I hope it will catch those of you still experiencing 14 February!
I just wanted to share a beautiful quote with you, by Mother Teresa. I revealed it in my mid-month ezine, but I really want to share it again here:
Love is a fruit in season at all times,
and within reach of every hand.
Isn't that beautiful? I love that we have a day that celebrates love, but (as with Christmas), we need to take the spirit of love with us throughout the year. And to share it with everyone, whenever we can.
Can you share love with someone today? And every day?
Sending you heaps of love and a big hug…
Doing Good, Feeling Great!
I received an amazing book for Christmas: Screw Business as Usual by Richard Branson.
Now, I'm not usually one for cussing, so the title turned me off a little.
I'm also not a huge fan of the use of women in marketing the Virgin airlines brand. 
But I still like Richard Branson. He's big on social responsibility, and on helping others to help themselves, and this book has revealed to me the full extent of his philanthropical work and his passion for helping others. Now I like him even more!
He believes that it's up to entrepreneurs to 'do good'. If we're to get this planet back in shape, and to finally get on top of the dire poverty and hunger that's rife around the world, businesses need to take action. Governments just aren't up to the job.
'Business as usual' refers to the fact that, for many years, the only focus of many companies has been on the size of their bottom line. However, as we move into a new age, business is not all about profit, but it's also not about making a token gesture and giving handouts. It truly is about empowerment. And when a business does good, Richard has discovered that the bottom line flourishes, too. Win-win.
So, if you're a business owner, is this something you think about? Is the work that you do (the product or service that you provide) bettering the world as well as bringing you personal income?
Or if you're an employee, do you feel that you work for an ethical company that's attempting to make the world a better place? Does it treat its staff well? Does it look beyond profit?
In your personal purchases, do you support forward-thinking companies by purchasing their products or services? Be it soap powders, make-up, organic or locally produced food, or services offered by people such as stay-at-home mums who want to make extra income for their families from home?
It's not easy for every business to ensure their whole production line is environmentally sustainable, but they can make big strides towards that goal, and part of their mission can also be to help people help themselves (wherever possible).
Richard believes that people are basically good, and that, given the chance, they really want to do good. And we all know that doing good also feels good. In my opinion, we're all connected, so when we help others, we really do help ourselves!
Since reading Screw Business as Usual, I've reflected on my own path, and have realised that as my awareness has grown over the years, I'm now more conscious about 'doing good'. I love personal development, and I love helping other people realise that they have control over their destiny. How wonderful that I can make such an impact on people's lives, now that I'm a life coach!
In earlier years, I worked as an editor for Lonely Planet travel guides, a company dedicated to helping raise awareness of different cultures, giving to worthy grassroots organisations, and maintaining editorial independence. I LOVED the culture of that company. Since then I've written three recipe books for children, encouraging kids to choose organic produce and to practice skills that empower and equip them for life.
I know there's so much more I can do, and I'm so glad that my radar is now tuned in to a very conscious way of living. I know that I'm in a privileged position of being born in a first-world country that has access to so many resources, and I know that I have a responsibility to 'do good'. Not just because it's the 'right thing to do', because I really do want to help.
As you set about planning a phenomenal 2012, I invite you to think about the type of world you want to live in. Consider making 'doing good' a tangible, meaningful goal that flows through any other goals you create… and be prepared to reap rich rewards!
PS Head here to discover more about Richard's work, and the amazing work of other entrepreneurs from around the world. I may not agree with some of Richard's marketing philosophies, but I do respect that he uses his name, influence and money to effect hugely positive change in the world.
PPS I love the work of microfinancing organisation Opportunity International. It gives loans to people in developing countries who want to create or grow their own businesses!
Gratitude Friday – 16 December 2011
OK, there goes another week, and here we are nearly at Christmas. Woohoooo!
What am I grateful for this week?
Getting to share the fun of Christmas craft, helping out in my children's classroom.
Sensational weather – does this mean summer is finally here?
A fabulous chat with my friend Michelle Mayur.
Being treated a special high tea at Craig's Royal Hotel here in Ballarat (definitely not raw, but a lovely treat).
Getting all our Christmas cards in the post, and just about finishing our Christmas shopping.
What about you? What are you grateful for from this week? Share with us, in the comments below.
Gratitude Friday – 4 November 2011
Friday, Friday, Friday, we love you.
This has been one of my favourite weeks of the year, because we celebrated my girls' birthday!
Five happy gratefuls from this week:
A weekend spent in Melbourne with family, including a fun visit to the amazing Scienceworks.
Having breakfast with a dear friend in Melbourne, catching up on all her news.
My two appreciative, joyful little girls enjoying a really special birthday.
Being able to be with my girls at school on the morning of their birthday, as parent helper, and seeing the delight on their classmate's faces as we brought out choc-coated frozen bananas to share (instead of cake – see the pic above). We used the 'Liquid Chocolate' recipe from Ani's Raw Food Desserts: 85 Easy, Delectable Sweets and Treats (although we added a little more agave…).
A sensationally sunny Friday!
What did you love and appreciate in your life this week? Share with us in the comments!
Creating a Colourful Life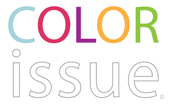 Now, you guys know I'm always banging on about creating a beautiful life, right?
Well, for me, that has to include colour. I mean, take a look at my website, for starters! If that hot pink border doesn't blow you out of your chair and dazzle your day, I don't know what will. Colour affects your mood (and therefore your vibration) in a big way – have you noticed that?
I think it's so important to create a world that inspires you, that honours who you are and who you want to grow into. And you can use colour to help you do just that.
So, if you're after more inspiration, you've got to check out a brand-spanking new blog by talented US graphic designer Aarean Jergensen.
Called Color Issue, Aarean's blog celebrates colour in a big, big way. (BTW, you pronounce Aarean's gorgeous name as air-ee-un.)
So go on! Let yourself be brave and bold, and soak up the utter joy of the colour that's in your world – and in the beautiful world you're creating for yourself.